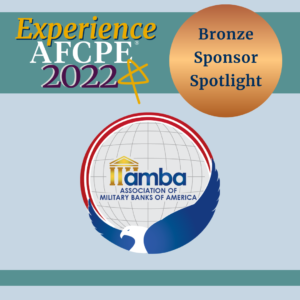 Welcome to the 2022 Sponsor Spotlight series! As we prepare for #AFCPE2022, November 16-18, 2022, we are excited to introduce you to our incredible Sponsors! Learn more about the organizations you'll find in the Exhibit Hall this November.
1. Who are you?
AMBA – The Association of Military Banks of America is a not-for-profit bank trade association representing banks and related financial service providers that share a common mission to serve military personnel, veterans, and their families. AMBA and its members work to help the military and veteran communities achieve financial success by providing exceptional financial products, services, and financial education. AMBA members located on and off military installations serve their customer's needs by developing a deep understanding of military life, culture, and challenges facing military and veteran families.
2. What's new?
In December 2019, the Veterans Benefits Banking Program (VBBP) launched in partnership with the Association of Military Banks of America (AMBA) and the U.S. Department of Veterans Affairs (VA). This program seeks to provide additional banking and direct deposit options to the more than 250,000 Veterans who at the time were unbanked and receiving monthly monetary benefits on prepaid debit cards or checks. The program launched initially with four participating banks on AMBA's VBBP bridge website. As of October 2022, more than 190,000 Veterans are now considered banked and are receiving their benefits via direct deposit to a financial institution. Currently, 43 banks and credit unions participate in VBBP.
In February 2022, the VBBP website was redesigned to include additional financial resources for Veterans. New VBBP 2.0 features include an updated informational video and social media platforms.
Several new VBBP 2.0 resources are provided by AMBA's non-profit partners:
The Association for Financial Counseling and Planning Education (AFCPE) and the National Foundation for Credit Counseling (NFCC) offer Veterans one free Credit Counseling or Financial Counseling Session.
The Military Family Advisory Network (MFAN) offers VetCents, a module-based, tailored financial education program for Veterans adapted from MilCents, an award-winning financial education platform for the military.
Additional resources for Veterans include Cybercrime Support Network materials, additional VA information on Identity Theft and Fraud, and a dynamic compilation of resources to help Veterans on their path to financial wellness.
AMBA, in collaboration with DCUC and Lightbulb Press, also created the Armed Forces Financial Guide. This guide provides key information on important financial issues like qualifying for and accessing service member and military family benefits, reading a military Leave and Earnings Statement, everyday finances, planning for the future and much more. More information about the guide can be found at www.ambahq.org.
AMBA also created MILDOCS – a financial preparedness kit that can be accessed and downloaded for FREE at www.MILDOCS.org.
3. Why is financial capability important to your organization?
AMBA and its member banks agree that financial readiness = mission readiness. Military families must be ready for the challenges that the military lifestyle brings their way. Without a solid financial foundation, families may find that financial challenges can affect all aspects of their life, making it hard to focus on the military mission. AMBA and its members work every day to ensure that the military and veteran communities have access to safe, reliable, trusted financial services, products, and education.
4. This year we are celebrating #30YearsofAFC. How has the AFC® certification impacted your organization?
Our member banks recognize the tremendous value financial counselors with the AFC® credential add to their efforts to support their customers. AMBA also understands the value that FINRA Foundation Fellows who earn their AFC® can bring to their organizations. These financial professionals, many of whom are members of the military and veteran communities they serve, are critical contributors to their financial wellbeing.
5. How can financial professionals get involved with you?
We are working with AFCPE® through the VBBP to provide direct-to-consumer support to Veterans. As this program continues to grow, AMBA's relationship with AFCPE® becomes stronger.
AMBA is committed to promoting to our member banks and partners the importance, value, and significance of the AFC® credential. We are confident that will result in an increased demand for AFC® financial professionals.