Providing you with the knowledge and experience to meet individuals and families where they are, help them build a strong financial foundation, realize their goals and achieve lasting financial well-being.

ABILITIES OF THE AFC®
Educate clients in sound financial principles.
Assist clients in the process of overcoming their financial indebtedness.
Help clients identify and modify ineffective money management behaviors.
Guide clients in developing successful strategies to achieve their unique financial goals.
Support clients as they work through their financial challenges and opportunities.
Help clients develop new perspectives on the dynamics of money in relation to family, friends and individual self-esteem.
Navigate cultural and emotional aspects of money
Elevate your knowledge and skills with the credibility and confidence that the AFC
®
certification provides.
THE FOUR STAGES TO COMPLETE YOUR AFC® CERTIFICATION
1. Education
Choose the education pathway that fits your lifestyle.
Educational eligibility requirements have been established to ensure that individuals certified by AFCPE® have the appropriate level of education, knowledge and proficiency necessary to provide financial counseling services as an AFC® professional. As a prerequisite to selecting the education path that's right for you, please review the list of core competencies required prior to sitting for the AFC® examination. These competencies are based on the results of the AFCPE® 2018 Job Analysis Study.
List of AFC® Core Competencies 
You'll find meaningful differences among the education paths for AFC® certification. Each path is designed to ensure that you've been exposed to the educational components that correspond with each of the core competencies on the AFC® examination. You can find the option that best fits your experience and goals.
Download the AFC® Candidate Handbook
---
AFC® Education Paths and Fees
The educational pathways below include the cost of the AFC® exam. Education and exam fees are paid separately. Certification registration fee is non-refundable. Please view AFCPE®'s Refund Policy for more details.
Optional course reviews are available through AFCPE® upon request for $750 and optional study guides are available for $150. Books and materials that ship outside the U.S. will incur a $35 international shipping charge.
AFC® Online Study Guide
A supplementary tool to support your preparation for the AFC® certification examination! The guide is now included with the self-study pathway and available as an add-on for all other pathways. It is designed to guide you through the material, providing you with additional tools and resources to develop your skills, test your comprehension, and put your knowledge into practice!
Housed in a learning management system, the guide allows you to:
Divide the material into manageable sections of content.
Sort through study processes more efficiently.
Engage with other certification candidates through discussion boards.
Tap into different learning styles, utilizing videos for visual learners.
Apply the material you are learning with "Think Like A Counselor" exercises.
Access study materials, including a glossary of terms and worksheets.
Explore additional resources and links to bring the material to life.
Experience new content, including case study applications for non-traditional clients and instruction on cultural sensitivity.
The Certification Council does not require, provide, accredit, or endorse any specific study guides, training or review courses, or other examination preparation products. The Certification Council, certification staff, certification committee members, and certification subject matter experts do not have involvement in the creation, accreditation, approval, endorsement or delivery of examination review courses, preparatory materials, educational programs, or training programs/products that prepare candidates for the AFC certification examination.
---
AFC® Special Pricing
Learn more about our special pricing, including AFC® exam discounts for students, group pricing, military educational benefits, and myCAA for eligible military spouses.
2. Exam
3. Experience
4. Ethics
Maintaining Certification
The AFCPE Certification Council does not develop, approve, recommend, or endorse any educational programs, study programs, or other offerings. AFCPE courses are developed and delivered by the AFCPE independent of the Certification Council with no access to confidential AFC examination content. All applicants are encouraged to choose the educational pathway best suited to their educational background and professional experience.
Want to save $50 on your AFC® exam?
Separate from AFC® certification, AFCPE Membership is the intersection of financial education, research & practice. Membership brings together professionals from a variety of financial fields, creating a strong network of knowledge and delivering professional development, resources, and benefits that positively impact your work and enhance your career.
Why AFCPE® Membership? 
Free Professional Development – to support your experience hours and knowledge base and, once certified, to help you earn your CEUs. Our library of content is available to AFCPE Members 24-7, live and on demand.
MentorConnect Program – to connect with a mentor to gain insights and expand your professional network
Virtual Meet Ups – to connect with other professionals on topics that matter to you
Discounts – including $50 off your AFC exam!
And so much more!
AFCPE® membership and certification are completely separate divisions of the organization. While membership offers additional benefits to our certified professionals and provides a community for them to network and share best practices, membership is not required to hold certification. AFCPE® Membership dues are nonrefundable. Read AFCPE®'s Refund Policy here.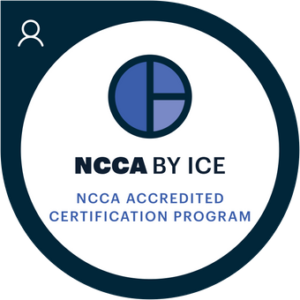 The NCCA accredited the Association for Financial Counseling & Planning Education® (AFCPE®)'s AFC® certification for a five-year period, expiring December 31, 2025. NCCA is the accrediting body of the Institute for Credentialing Excellence (formerly the National Organization for Competency Assurance). Since 1977, the NCCA has been accrediting certifying programs based on the highest quality standards in professional certification to ensure the programs adhere to modern standards of practice for the certification industry. The AFC's compliance with NCCA standards shows that the educational content and testing for the AFC is psychometrically sound and has been developed, maintained and governed by the highest standard. This recognition and achievement sets the certification mark apart from others in the field and emphasizes the highest standard of excellence that AFCPE has built for this field.