WHY WE DO WHAT WE DO
At the Association for Financial Counseling & Planning Education®
(AFCPE
®
)
our mission is to ensure the highest level of knowledge, skill, and integrity of the personal finance profession by certifying, connecting, and supporting diverse and capable professionals who serve communities worldwide.
We believe in a future where all people — regardless of income or background — are empowered to achieve lasting financial well-being through the highest standards of financial counseling, coaching, and education.
Highest Standards
3076
Certified 
Professionals 
Worldwide
Educators, researchers, and practitioners working in private practice, government, military, nonprofit, banks/credit unions, academia, & more.
Work with an AFC
Education & Practice Rooted in Research
1643
AFC® 
Candidates
Students, professionals, career changers, and volunteers from all backgrounds learning how to help others manage their money so they can improve their lives. 
Get Certified
A Diverse & Inclusive Network
2213
Devoted 
AFCPE® 
Members
AFCPE® is the ultimate resource for members seeking to remain relevant in the personal finance profession.
Become a Member
OUR HISTORY
For over 30 years, AFCPE® has set the highest standards for the field of financial counseling and education.

We have worked with the government, the military and a wide range of agencies to set policy. We collaborate with partners that share our values and our vision for the future. Our constituents are instrumental in everything we do. Today, our nonprofit organization continues to set the standard for financial counseling, coaching and education.
Best Practices
Ethical Behavior
Networking
Personal Finance Education
Career Advancement
Information Sharing
Professionalism
Rigorous Certification 
Listen: 
We get to know you and your why. We'll ask you about your work, your background and your goals. Where are you now and where do you want to go?
We present you with tailored options based on your unique needs and goals and make recommendations to help you decide the best fit for you.
Most importantly, we support you along your professional journey – with education, resources, and people who are committed to a common vision.
Connect:
We connect you to our membership community, training or certification programs, news and research, or to professionals and subject matter experts.
AFCPE has never been stronger – our community is more integrated and passionate than ever. Our team is talented, engaged, and excited about advancing our mission. With a new strategic plan, a dynamic staff, and a committed network of professionals, the organization is poised to flourish in the years to come. There is no better time to join our AFCPE membership community, get certified, or take an Essentials course. No matter where you start, AFCPE is the place to find your people.
If you are passionate about helping people with their money so they can improve their lives, you are in the right place.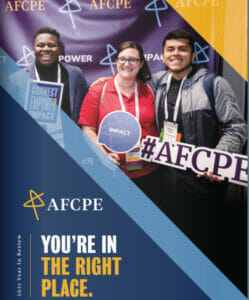 For Consumers: 
AFC®s are trained to provide a complete continuum of care – regardless of your financial history or current financial status. They will help you uncover the healthy money habits and behaviors that can lead to financial freedom.
For Partners: 
AFCPE
®
is proud to partner with many outstanding organizations that recognize our commitment to setting the standard in the field of financial counseling, coaching, and education. Help us expand our impact. Please contact
Rachael DeLeon
, AFCPE
®
Executive Director.
For Press: 
AFCPE® has a strong network of financial counselors, coaches and educators available to support members of the press. For media inquiries or requests for press materials, photos, videos, and media interviews concerning AFCPE® please view our Media Kit.
For AFC® Certified Professionals: 
Sharing the value of your certification and AFCPE® benefits you and those whom you serve. You can do this simply by adding the AFC® to your name – in your signature, on your social media accounts, etc. and joining the conversation! By lending your voice, you create awareness and recognition which allows us to expand our impact and create access to the highest quality of financial counseling, coaching and education. Download the Communication Kit to learn how you can get involved.