The papers below are brief snapshots of fascinating personal finance research.
Read the full studies to better understand the other literature in the field, the methodology, and the limitations.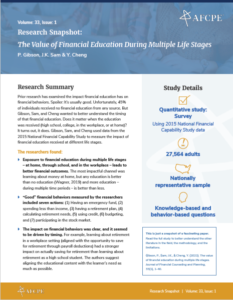 The Value of Financial Education During Multiple Life Stages
Volume 33, Issue 1
P. Gibson, J.K. Sam & Y. Cheng
Prior research has examined the impact financial education has on financial behaviors. Spoiler: It's usually good. Unfortunately, 45% of individuals received no financial education from any source. But Gibson, Sam, and Cheng wanted to better understand the timing of that financial education. Does it matter when the education was received (high school, college, in the workplace, or at home)? It turns out, it does. Gibson, Sam, and Cheng used data from the 2015 National Financial Capability Study to measure the impact of financial education received at different life stages.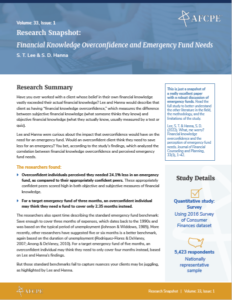 Financial Knowledge Overconfidence and Emergency Fund Needs
Volume 33, Issue 1
S.T. Lee & S. Hanna
Have you ever worked with a client whose belief in their own financial knowledge vastly exceeded their actual financial knowledge? Lee and Hanna would describe that client as having "financial knowledge overconfidence," which measures the difference between subjective financial knowledge (what someone thinks they know) and objective financial knowledge (what they actually know, usually measured by a test or quiz).
Looking for more research to apply to practice? 
Check out our #ResearchWednesday blog posts or the Research Briefs published quarterly in AFCPE's newsletter, The Standard!