Are you passionate about helping people with their money so they can improve their lives? If so, you're in the right place.
AFCPE® counseling and coaching certifications are the most respected in the field of financial counseling and education. The AFC® is the gold standard on which all our certification programs are based. Each is structured, rigorous and highly focused on professional development and continuing education.
CERTIFICATION BENEFITS INCLUDE:
A highly recognized and respected designation
A strong network of professionals
Access to ongoing continuing education
Continual support for a rewarding career
Select the certification program that best fits your professional requirements and meets your career goals.
Certification | Counseling Specialty
AFC®
Accredited Financial Counselor®
The gold standard: Comprehensive life-cycle financial education, providing the knowledge and skills to assist clients in complex financial decision-making.
An Accredited Financial Counselor® (AFC®) can:
Address your immediate money challenges.
Create a plan to achieve your unique goals & dreams.
Build a sustainable foundation for long-term financial well-being.
When you work with an AFC® professional you receive financial education and guidance specific to your unique situation and needs. An AFC will never sell you products.
Learn More
Certification | Counseling Specialty
AFCC®
Accredited Financial Counselor Canada
®

The AFCC® program is provided by the Ontario Association of Credit Counseling Services (OACCS).
Learn More
ACCREDITATION
The NCCA has granted accreditation to the AFCPE's Accredited Financial Counselor
®
(AFC
®
) program for demonstrating compliance with the NCCA Standards for the Accreditation of Certification Programs.
The National Commission for Certifying Agencies (NCCA) has granted accreditation to the AFCPE
®
's Accredited Financial Counselor
®
program for demonstrating compliance with the NCCA Standards for the Accreditation of Certification Programs. Accreditation is for a five-year period, expiring December 31, 2025.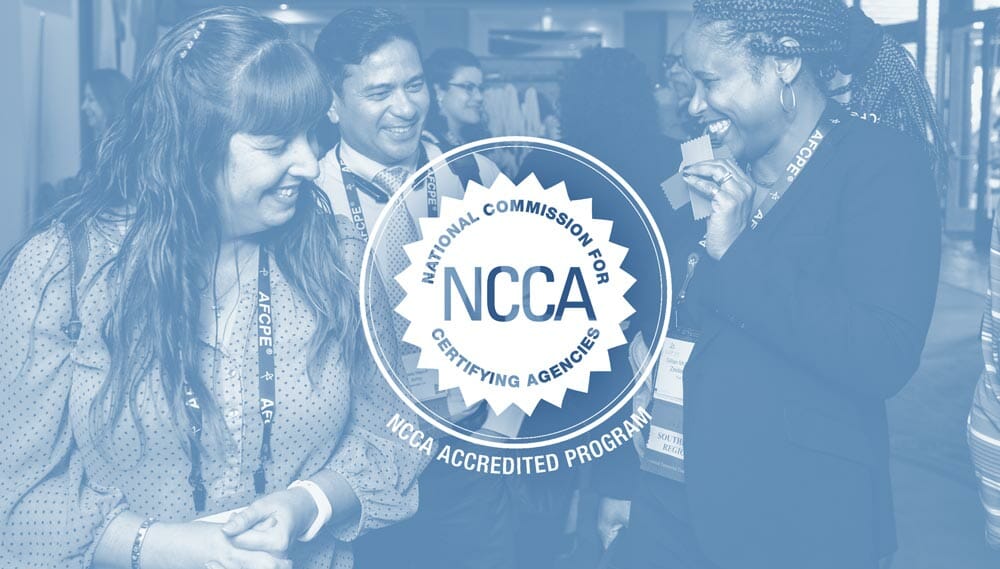 "Accreditation through NCCA enhances the value of the AFC® designation to employers, colleagues and consumers," said Rebecca Wiggins, AFCPE®'s executive director. "This recognition and achievement sets the certification mark apart from others in the field and emphasizes the highest standard of excellence that AFCPE® has built for this field."
The NCCA is the accrediting body of the Institute for Credentialing Excellence. The NCCA Standards were created in 1977 and updated in 2003 to ensure that certification programs adhere to modern standards of practice for the certification industry. AFCPE® joins an elite group of more than 120 organizations, representing over 270 programs, that have received and maintained NCCA accreditation.

​​​​​​Together, AFCPE's Accredited Financial Counselor® (AFC®) certification, and the Financial Fitness Coach (FFC®) certification in partnership with Sage Financial Solutions, have met the requirements and competencies outlined in the Financial Empowerment Center (FEC) Counselor Training Standards:
Context of Poverty
Financial Content (All topics)
Counseling and Coaching Skills
Counseling and Coaching Techniques
Practice and Experiential Learning
Continuing Education
Supervisor Training
Shane Enete, Assistant Professor of Finance at Biola University
"The AFC® is a credential that will enhance just about any career that involves service to others. Whether a student becomes an advisor, counselor, teacher, therapist, pastor, or non-profit worker, knowing how to skillfully address financial issues gets to the root of a basic human need that also is highly connected to their hearts."
Vivian Padua, AFC®, FCC®
"As a financial coach, I create a trusting and honest space for clients. I listen without an agenda or judgment. I stay present with clients and provide a space where they feel comfortable sharing their life stories. By building this container, we are able to establish concrete financial and life goals."
Pamela Capalad, AFC®, CFP®
"If there's one designation you're going to start with, start with the AFC®. I'm not just saying that, I got my CFP® first and if you want to work with folks who need this information and help the most, the AFC® covers the knowledge base and the behavioral/psychological training you'll need to help people truly make change."
MAINTAINING CERTIFICATION
Professional development is a career-long process.
Over the course of a career, many changes will occur in a field of expertise that require an updating of knowledge and skills. These changes can include the introduction of new product and service offerings in the financial marketplace, as well as changes in laws and technical knowledge related to personal finance and counseling.
The purpose of requiring certificants to receive continuing education is threefold:
Enhance the individual professional's capacity to serve his or her constituents
Protect the public interest
Uphold the rigor of the certification programs
There are three steps to maintaining certification:
Submit an annual fee
Meet the CEU requirements
Abide by a code of ethics
For more information on requirements and fees, please refer to our