We know that money is already often weighing on people's minds, especially those with critically low incomes. During these times of extreme uncertainty, people's main financial concerns become even more immediate rather than long-term. The National Endowment for Financial Education found that 7 out of 10 people are concerned with their finances during COVID-19 and nearly half described themselves as very or extremely concerned. The list is long, but people are especially worried about job security and having enough emergency savings to weather this storm. More recently, the Center on Budget and Policy Priorities shared data outlining how the pandemic and its economic outcomes are disproportionately impacting Black, Latino, Indigenous, and immigrant households.
Anticipating how organizations—financial providers and their community-based partners— would need to deepen conversations about money with their clients (now by phone and video), The Prosperity Agenda held workshops in May and April 2020 to train 71 practitioners and leaders at 7 Washington State and two national organizations. We explored ways to reduce anxiety and shame about money during this financial crisis so people can feel more in control of their finances. For professionals who do not typically talk about money, we offered our Money Mindset Cards as a way to start client conversations with ease and impact.
Adopting an Equitable Money Mindset
Through these workshops, we learned how organizations were adapting to address clients' increased financial stress and uncertainty. It reaffirmed that staff who adopted an equitable money mindset, were better able to reduce anxiety and shame about money during the financial crisis so clients can feel more in control of their finances.
An equitable approach to conversations about money leverage a person's strengths, discovers and reinforces financial identity, and fosters a sense of financial control. To build that mindset, we must unpack the hidden language and judgements embedded in dominant mindsets about money. Our deeply held beliefs and attitudes affect financial learning, teaching, and interactions with clients and financial institutions.
Financial education has traditionally overemphasized an individual's need to take personal responsibility and change behaviors, without acknowledging how inequitable systems limit what choices are available. Poverty is, of course, not the result of bad choices. Individuals play their role, but current financial status is not evidence for evaluating intelligence, motivation, or likelihood of success.
How and where does a personal responsibility money mindset shift to an equitable money mindset? Where do you see these conditions in your relationships and practices?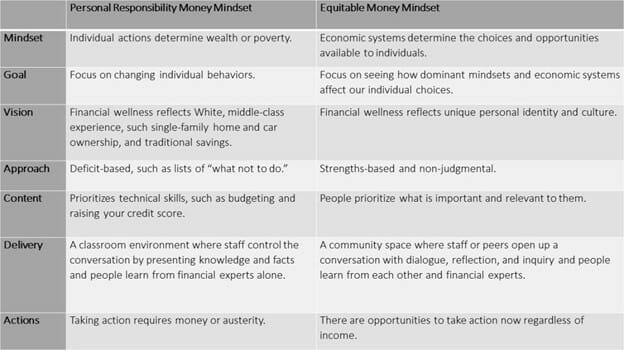 Strengthening Relationships through Your Money Mindset
We further learned how staff strengthened relationships around an activity that centered on clients' identity, inspiration, and intention. It sparked organic and easy relationships that opened people up to reflection and action. The conversations, by phone or in person, helped put people at ease and acted as a bridge to more technical financial education and counseling.
"People let their guard down and explored attitudes toward money. Great question and inquiry process."
"I like the reflective conversational tone of the cards. They seem friendly, simple, and easy to use. You could enjoy doing this together. They give people an opportunity to breathe." 
"Most participants were excited to complete the activities and share. The cards got them thinking about the motivation behind their financial goals as well as a few ways to begin taking steps." 
In our original research to develop Money Mindset Cards, staff also shared that groups of clients bonded faster because they created a safe space to discuss the financial realities they are facing. Staff learned not only more about their clients' lives, but the motivation and challenges they have with their own money mindsets.
Facilitating Money Mindset Conversations
Accredited Financial Counselors® are in a unique position to address the stress of people enduring financial insecurity. Join us to explore how Money Mindset Cards integrate into your practice and services.
Download and try one of these 3 free Money Mindset Cards and facilitate by phone, video, or online forum.
Reach out to let us know your experience: moneymindset@theprosperityagenda.org.
Register for our upcoming workshop on February 17 to learn to facilitate conversations about money with an equitable mindset.
Acknowledgments: The Prosperity Agenda thanks Harborstone Credit Union and Banner Bank for supporting this work along with the dedicated staff of Lift Financial Group, Circles USA, YWCA Seattle King Snohomish, Community Action of Skagit County, United Way Snohomish CORE Collaboratives, Workforce Snohomish, Sound Outreach, Goodwill Olympics & Rainier Region, and ANEW.