Carl and Carletha Windom are Accredited Financial Counselors® (AFC®) who have a spirit to serve. As siblings, the Windoms have a strong family history of military service. Their individual and collective experiences have given them an understanding of the unique challenges that military service members face, instilling a passion to help others navigate financial challenges, and ultimately achieve financial well-being.
You both work with members of the military community. Did growing up in a military family shape your career choices?
Carletha: Our father entered the Marine Corps in 1944 with the desire to serve his country and those marines were called the Montford Point Marines. It was the first group of African Americans to enter the previously all-white Marine Corps. It was an honor to see him receive the Congressional Gold Medal for his courage and sacrifice.
It was Dad's love, foundation and legacy that translated into my own military service and I later retired from the U.S. Army as a Lieutenant Colonel. He always told me you are a "winner".
Carl: My dad was an official American War Hero who received the Congressional Gold Medal for being one of the first African Americans in the United States Marine Corps. Carletha served as a senior officer. We also had a brother who served in the Air Force, my son served in the Air Force, and I served in the Navy. I would say the Windom family served their country in a few decades very honorably.
What inspired you to pursue a career in personal finance?
Carl: Growing up poor as a child in Harlem, New York inspired me to want to know more about how to get money save money and be financially stable rather than struggle like many of my community members.
Carletha: The inspiration to pursue personal finance as a profession was driven more by others than me personally. In this journey of life, I have discovered that others tell me more about myself than I otherwise thought of myself.
I have always taught, encouraged, and inspired others to reach higher heights in education, personally, and financially. In the church, with friends, colleagues, military, and even with family, I've always been sought out for assistance. But, there is one day that made it more evident than ever.
While I was on Active Duty, I was walking through the exchange and this young soldier was walking towards me with a look of fright on his face. He said "Can you help me?" I said, "Of course. What's wrong? He said, "I don't know how to write a check. Can you help me?" It was there, in that moment, that I understood that others see me as an educator, counselor, confidant, and friend who would extend help to any and all.
That's incredibly powerful. What inspires you to continue this work today?
Carletha: Becoming an Accredited Financial Counselor® (AFC®) has changed my life in various ways. It allows me to give back to the military community I love so much, but more profoundly, it has validated that what others have always seen in me at my core – that I am an educator, counselor, confidant, and friend to all. Being a personal financial counselor today is an excellent way to wrap up my life work and to leave a legacy, just as my father left me, to encourage and inspire others to reach exceptional heights in their lives.
Carl, you were the first one in your family to pursue this work. What inspired you to become an AFC®?
Carl: I became an AFC® because I wanted to not only teach and educate people about money, but to be a certified professional in the business so I could unquestionably know what to teach and what I needed to learn to master the topic.
Carletha, did Carl play a role in your decision to become a financial counselor?
Carletha: Our parents raised us as a close family. There were nine of us and I was the ninth child. My brother Carl is nine years older however, we have always had a great relationship as siblings and I remember the letter I wrote to him when he was leaving home to join the Navy at eighteen. Although we journeyed through life on different paths, we both have the same spirit to serve and give back.
In one of our discussions he said to me, "I have something I think you would be very suited for and I know you will love doing this" and there he pulled up the AFCPE site for me to review and he shared his experiences being an AFC and how he thought I would be excellent as an AFC.
There it was again others telling you more about yourself than you can see. I didn't act immediately, but soon made the decision to pursue, because big brothers like Carl give good advice! I am so glad that I did and he was right. I love being an AFC, and it is suited to who I am as a person.
What inspires you, or keeps you excited about this work?
Carl: For me, it's being able to change someone's life and their struggles with money right now. I am especially passionate about serving young people in the military, my family, and my community all over the country.
Carletha: I am excited that I have the opportunity to serve as an AFC in a military environment. The military is where I spent the majority of my life, and I understand the challenges that service members face. It a pleasure to be a part of preparing others for a bridge I've already crossed.
What is your hope for the field of personal finance?
Carl: My hope is that more people embrace the topic of personal finance at a younger age, so that they don't have to struggle financially for a lifetime.
Carletha: My hope is that through academia, organizations promoting financial literacy, and legislation at all levels, we continue to find ways to improve financial literacy not just in the United States, but globally.
When you aren't changing lives as an AFC®, what do you enjoy doing for fun?
Carl: I enjoy spending time with my wife, my two grown sons, travelling, meeting new people, or watching basketball at all levels.
Carletha: I enjoy teaching myself at least two or three things a week. It can be a new recipe or a new function in PowerPoint, etc. I am always reading and looking for ways to be the best version of myself so I can better serve others.
Carl and Carletha Answer the Friday 5:
Carl: Why live in poverty when you can live in abundance?
Carletha: To be of service to the universe.
Carl: "Live for another day."
Carletha: "How can I help you?"
Carl: Mother and Father
Carletha: Dad
My Favorite Personal Finance Resource:
Carl: Other financial professionals, financial counselors, educators, or coaches.
Carletha: The Personal Finance book used in the AFC® class (Garman and Forgue). I have the 12th edition I keep on my desk for reference.
For someone starting the journey to financial well-being:
Carl: Build that foundational knowledge and grow from there.
Carletha: Script your life the way you want it to be because you are the one that has to live with it.
For new professionals entering the field:
Carl: Be open minded, patient, and a continual learner. It takes a few years to master the topic of money.
Carletha: Learn to listen.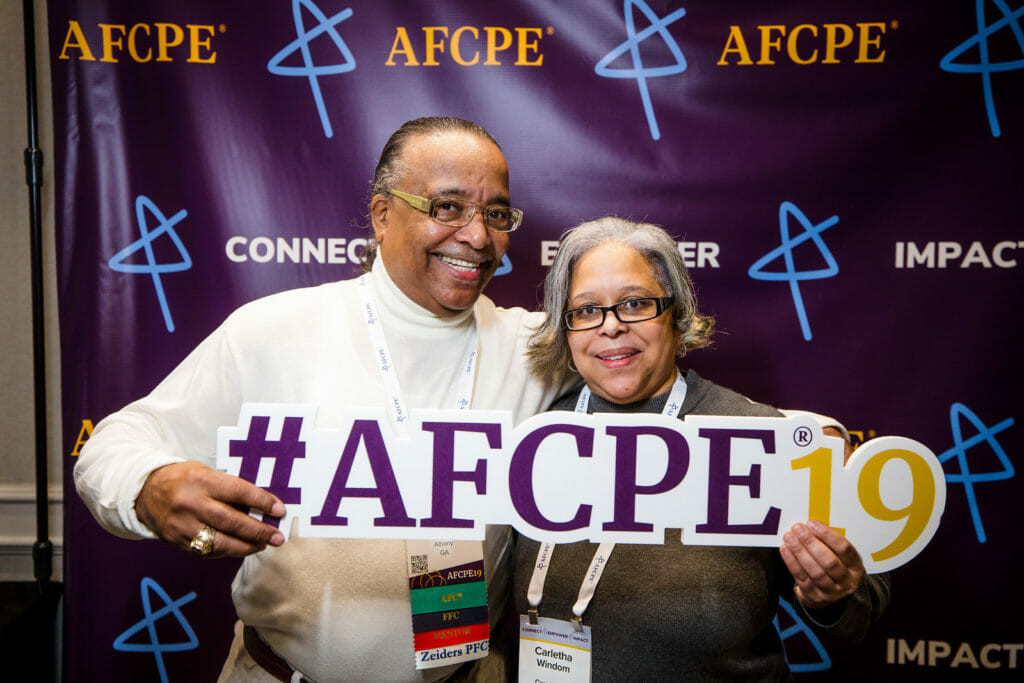 One response to "#FridayFollow: Siblings with a Spirit to Serve"