Dominique Reese, AFC®, FFC® is a financial coach serving LA County and beyond. She helps her clients with anything that impacts their money, and if she is unable to help – she'll work with them to secure the right resource or professional, so they can achieve their financial goals.
AFCPE: What inspired or led you to pursue a career in this field? 
Dominique: I had mentors who were financial advisors at Merrill Lynch. I earned an internship on a private wealth management team in Century City and that's when I first learned that "regular" people were millionaires too and my mentors were managing their money. That blew my mind! From there, I was inspired to learn more about the people who became millionaires, how they did it and how they were able to manage their money. I was introduced to financial coaching formally, in 2016, once I became a Veteran Financial Coach. Little did I know, I was coaching way before then, and didn't realize it.
AFCPE: What is the most rewarding career experience you have had so far?
Dominque: I am so blessed because today (8.20.19) really knocked my socks off!! I had two amazing wins, that validated me so much, if I had any doubt before:
One client showed up for an event that has been rescheduled for next week. Nevertheless, he shared, "ok, I'm ready, I'll be back next week. I got my FBN, EIN, I'm ready." I said, "What?!?! You did everything we discussed from last time and literally, started your business on paper?" He said "yes, we discussed 8 easy steps and I did them, they're done. I'm ready for the workshop now." I couldn't believe it and of course, I could. I measure my success as a coach by the goals set and actions taken by my clients. Mr. Rogers learned the process of starting his business on paper from one session and less than 30 days, he had taken actions and implemented. Coachable and accountable. He did it!
The second rewarding win came later that day. I recently learned that my financial education workshops are eligible for students at the 5 Keys Adult Charter School (for getting one's high school diploma or GED) to use towards their graduation requirement! Today, my client, Mr. Evans, finished his requirements and graduated and my workshops gave him 5 credits towards his graduation! Not only did I deepen my organization's relationship with the school, but students can now access financial education that matters to them in more ways than one, a true value add. Coaching and educating clients about personal finance can be a tool to be leveraged in workforce development. I am proud to bridge the two worlds and create impact and add value.
AFCPE: What is one myth/misconception about your job?
Dominique: It is a myth or misconception that I only work with poor people AND that people with money/assets can't benefit from coaching. It's just not true.
I have worked with clients in my private practice who have saved $50,000 and have no idea what to do with it and/or lack a plan because they have debt and other goals. On the other side of the same coin, when I work with someone who is experiencing homelessness or unemployment, they're in transition. Key word transition. They are not stuck here forever. They lack a plan of action about what is best for them. So, ultimately, we are tapping the same solution in both situations, guidance around what the client feels is the next best step given everything they're considering and experiencing.
AFCPE: What is something you wouldn't have known when you started your career that you know now?
Dominique: I would not have known how liberating it is to be a coach. Coming from an advisory world when I first started my career in financial services, as the advisor, I had a lot of responsibility, even some fiduciary responsibility. As a coach, those formal responsibilities don't exist because I assume the client is creative, resourceful, and whole. I am here to guide, provide information, resources, and accountability. Different game in the same park.
AFCPE: Why did you decide to earn your AFC® and FFC®?
Dominique: Frankly, it was a requirement for the job. And I was inspired to adopt it with pride because the training has changed how I interact with people important to me, including my family and friends, not just my clients. The AFC allows me to consider the person I'm working with and what is best for them, coming from them. I get to access the entire universe of financial knowledge under my belt. I am not limited to any specific area, like strictly investments (as an advisor) or retirement or insurance planning (as a planner) or credit/debt counseling (as a credit counselor) and just educating (as a financial educator). I get to bring my entire skill set to bear and simply provide a path of many paths to be considered for my clients. And further, I don't have to create the plan. The client creates the plan. I simply help guide them as they're creating it. It's such a liberating role. I don't feel like my clients are dependent upon me or that I am enabling them.
AFCPE: What is the most valuable/surprising thing you've learned or gained through the AFC and FFC® programs? 
Dominique: My style and approach to the work I do blends coaching and counseling. There are times when the best thing I can do for my client is coach them and stay in a coaching lane. Other times, its best for me to counsel. Having an ability to leverage both and implement techniques from both on the spot helps me become a better practitioner. I can problem solve, offer solutions, and build strategies with the best of the counselors. And, I can also guide, encourage, listen, and coach with the best of the coaches. I am able to explore synergies to partner with coaches, counselors, planners, and advisors who do not have these skill sets and designations.
AFCPE: What would you say to another young professional thinking of pursuing this certification?
Dominique: Do it. It will enhance your marketability to clients, individual and institutional, as well as your ability to partner with other financial professionals, who I guarantee do not have the skill set you'd be bringing. It allows you flexibility in your style and approach. And if you're still figuring that out, it's even better because it helps broaden your learning curve. You won't get pigeon holed to any one area before you're ready.
AFCPE: What is your hope for this field and the future?
Dominique: It is my vision to live in a world where every Black woman leader, professional, and entrepreneur has a net worth of at least $100,000 so that she can take advantage of any opportunity to serve herself, her family, and her community. Given that vision, I am excited to reach my clients, one coaching session at a time, to live out the works of achieving that vision. As a mother, entrepreneur, and community leader, I am honored to be a living example of the work I do for my clients. Everything in divine order, I will serve thousands and thousands of women, increasing net worths one asset at a time.
Connect with Dominique:
Twitter: @reesefinancial
Facebook: Master My Money
Instagram: @drdominiquereese
LinkedIn: Dominique' Reese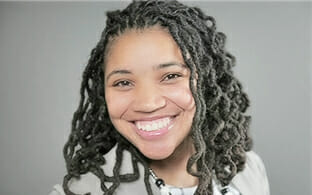 One response to "#YoungProWeek: The Power of Blending Counseling and Coaching"