You believe in a future where all people — regardless of income or background — deserve financial security through the highest quality financial counseling, coaching and education. 
As an Accredited Financial Counselor, you help make it a reality.
Why the AFC?
Confidence

Credibility

Impact
The Accredited Financial Counselor (AFC) certification provides you with the knowledge and experience to meet individuals and families where they are, help them build a strong financial foundation, realize their goals and achieve lasting financial well-being.
How can I use my AFC?
AFC professionals work in a variety of capacities across the field of personal finance. Explore our career center to learn more about the career pathways you can take with an AFC credential. 
What Makes the AFC
Different?
We are proud to be NCCA-accredited.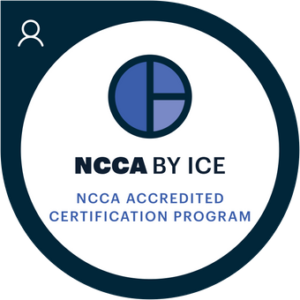 The AFC's compliance with NCCA standards shows that the educational content and testing for the AFC is psychometrically sound and has been developed, maintained, and governed at the highest standard. NCCA accreditation sets the AFC certification mark apart from all other financial counseling certifications in the field. It confirms to employers, colleagues, and clients the rigor and quality of the AFC education.
In good company: View FINRA's list of accredited designations.
How do I earn my AFC?


4 Steps to Certification
The following steps can be completed in any order; every candidate's journey is different. You will have 3 years from the date of enrollment to complete the program.
How will AFCPE support me? 
Registering for the AFC is a big decision. We want to make sure you have a strong community, staff support, and career guidance on your journey to earning the AFC.
Join our Education Team during virtual office hours to get your content questions answered!
A virtual discussion board to c
onnect with other AFC candidates. Share study tips, experience hour opportunities, &  more!
Learn more about our special pricing, including:
AFC exam discounts for students

Group pricing

Military educational benefits

myCAA for eligible military spouses
Take advantage of the AFCPE Candidate M
embership rate – all the benefits of professional membership at a discount. As a member, you save $50 on the AFC exam and gain access to free professional development webinars to support your experience hours. Great networking and so much more!
How do I maintain my certification?
Learn more about post-certification requirements.
Looking for more information?
Self-Paced Study
Our most popular and most flexible pathway to certification . For self-starters, career-changers, and others who want to complete their certification in their own time, at their own pace.
Financial Education Challenge
For those who have completed applicable coursework in personal finance, financial planning, consumer sciences, or equivalent curriculum from a regionally-accredited college or university.
Professional Designation Challenge
If you hold a CFP®, CPA, ChFC or CFA designation, this may be the pathway for you. These professionals are exempt from a portion of the AFC core competencies.
Registered Education Programs
AFCPE partners with over 30 institutions-click to see if your school is one of them. Interested in a more traditional classroom experience? Check out our non-degree options.
Independent Trainer
Designed for groups who want a more personalized learning experience. If you are an organization or group seeking a more curated, customized education experience, then the Independent Training Pathway may be right for you!