You believe in a future where all people — regardless of income or background — deserve financial security through the highest quality financial counseling, coaching and education. As an AFC®, you help make it a reality.

Why the AFC®?
The Accredited Financial Counselor® (AFC®) certification provides you with the knowledge and experience to meet individuals and families where they are, help them build a strong financial foundation, realize their goals and achieve lasting financial well-being.
With an AFC certification, you can:
Educate clients in sound financial principles.
Assist clients in the process of overcoming their financial indebtedness.
Help clients identify and modify ineffective money management behaviors.
Guide clients in developing successful strategies to achieve their unique financial goals.
Support clients as they work through their financial challenges and opportunities.
Help clients develop new perspectives on the dynamics of money in relation to family, friends and individual self-esteem.
Navigate cultural and emotional aspects of money
What can I do with an AFC®?
Explore some of the ways Accredited Financial Counselors are making an impact in the field.
How do I earn my AFC? 4 Requirements for AFC® Certification
Ready to earn your AFC? The following 4 steps can be completed in any order, but we recommend completing them in the order below. You will have 3 years from the date of registration to complete the program.
How will AFCPE support me during the program? 
Register for a free AFC

®

Information Session
Post-Certification Requirements
Learn more about post-certification requirements.
What Makes the AFC Different?
We are proud to be NCAA-accredited.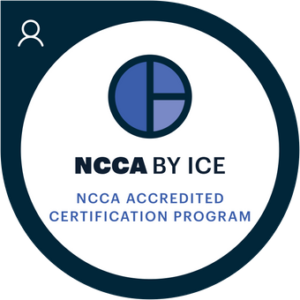 The NCCA accredited the Association for Financial Counseling & Planning Education® (AFCPE®)'s AFC® certification for a five-year period, expiring December 31, 2025. NCCA is the accrediting body of the Institute for Credentialing Excellence (formerly the National Organization for Competency Assurance). Since 1977, the NCCA has been accrediting certifying programs based on the highest quality standards in professional certification to ensure the programs adhere to modern standards of practice for the certification industry. The AFC's compliance with NCCA standards shows that the educational content and testing for the AFC is psychometrically sound and has been developed, maintained and governed by the highest standard. This recognition and achievement sets the certification mark apart from others in the field and emphasizes the highest standard of excellence that AFCPE has built for this field.