AFCPE is excited to welcome four new Board members to the 2018 AFCPE Board of Directors. New board members were elected by AFCPE membership, ratified by the current Board of Directors, and will be sworn into their roles during the November AFCPE Board meeting, held in conjunction with the 2017 AFCPE Symposium in San Diego, CA.
With a board composition that mirrors the diversity of our membership, our incoming board members are excited to bring new ideas, strong leadership and most importantly, passion, into their roles. We look forward to another positive and productive year!
Sandra J. Huston, Ph.D. is an associate professor and director of the Personal Finance program in the Ddepartment of Personal Financial Planning at Texas Tech University. Dr. Huston is an online education consultant for WebEd Consulting and also consults for The Financial Literacy Group in Washington, DC. She received a Ph.D. in consumer economics from the University of Missouri-Columbia. Dr. Huston's research interests focus on human capital specifically related to personal finance (financial literacy) and the financial planning process, household use of financial advice, and the impact of financial sophistication on resource allocation within household portfolios. Dr. Huston was the 2013 recipient of the Chancellor's Council Distinguished Research Award and the 2014 & 2015 winner of the AFCPE® Outstanding Symposium Paper Award. She is currently developing her financial health model to illustrate how both functional finance (financial literacy) and perceptual finance impact our financial health. Dr. Huston also leads the AFCPE Research Task Force. Dr. Huston will represent the University constituency on the Board.
Lacey Langford, AFC® is a speaker, personal finance writer, and money coach who helps others with the how, what, when, where, and why of their money via her coaching, speaking engagements, and writing.  She changes people's lives from fearful of spending money to having control and confidence with it.  Lacey is an AFC® with over ten years' experience in financial counseling and coaching and has been featured in numerous media outlets including Business Insider, US News and World Report, and Credit.com.  She is the founder of Sage Services, LLC a boutique money coaching business specializing in the unique financial world of the U.S. military. Lacey will represent the private practice constituency on the Board.
"As an AFC, I am most excited to become a board member to give back to the organization that does amazing things for the personal finance profession. I hope to bring my perspective on private practice to help the AFCPE mission as well as my fellow AFCs. I am looking forward to this amazing opportunity!"
Meredith Lozar, AFC® serves as the Child & Family Programs Director for The National Military Family Association. In this role, she is responsible for the management and direction of NMFA's Operation Purple® program that includes summer camps for military children, family retreats for military families experiencing the challenges of reunion and reintegration following deployment, and specialized family camps for the wounded and their families. She identifies and promotes various military children and family initiatives and serves as a subject matter expert on issues related to mental health and deployment issues impacting military children and families. A leader in the field of military family support services, Meredith has dedicated her career to improving the lives and overall readiness of today's military families. She has directed both large and small-scale military affiliated nonprofit programs and served in multiple volunteer capacities for the Marine Corps, Army, and Air Force. Meredith graduated with the highest distinction from Purdue University with a Bachelor of Arts in Psychology and went on to earn a Master's degree in Human Relations from The University of Oklahoma. Her thesis work focused on crisis intervention and secondary traumatic stress. She then went on to be selected as a Military Spouse FINRA Fellow and achieve her Accredited Financial Counseling® (AFC®) certification. Meredith is a Marine Corps spouse and mother and currently resides in Alexandria, VA. Meredith will represent the Military/Government constituency on the Board.
"I am excited to work with the Board to usher in the future of this great organization and bring additional exposure to our incredible mission and work. AFCPE is making a difference in the financial health of those we serve, and there's lots more great work to be done!"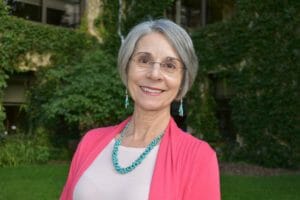 Joyce Serido, Ph.D., MBA is a leading expert in financial behavior at the intersection of family processes and personal well-being, with a particular focus on youth and young adults. As principal investigator for the Arizona Pathways to Life Success for University Students (APLUS) research initiative, she leads a multi-university team in the first longitudinal, multidisciplinary study of young adults' financial behaviors, with concurrent research exploring the connection between financial parenting, financial behavior, well-being and young adult self-reliance.

An Extension educator focused on connecting research to community needs, Dr. Serido also works to help families and young adults make financial choices that improve their everyday lives. Her educational programs include youth-led personal finance education, statewide workshops on financial planning for college and multiple initiatives to empower at-risk youth to make healthier life choices.
Dr. Serido holds an MBA in finance from Seton Hall University and an MS and Ph.D. in family studies and human development from the University of Arizona. Dr. Serido serves on the editorial boards of the Journal of Consumer Affairs and Journal of Financial Counseling and Planning. She has shared her work at conferences around the world, authored and co-authored more than 30 scholarly articles and earned national media coverage of her work, including articles in the Chronicle of Higher Education, USA Today, Wall Street Journal and Forbes. Dr. Serido will represent the University constituency on the Board.
"I am passionate about cultivating a collaborative network to foster the acquisition of the knowledge and skills youth need for economic well-being in adulthood. Because AFCPE brings experts together from research, teaching, and practice, I have a unique opportunity to collaborate with others who share my passion. I welcome this opportunity to serve the organization as an AFCPE Board Member."
 
Current AFCPE Board members who will continue their service to AFCPE as 2018 elected Board members include:
Bruce Brunson – military/government
Jerry Buchko – private practice, 2018 Board President
Dora Mays – military/government
Ryan Law – university
Brenda Vaughn – 2018 Past President
Robert Westrick – external, legal
To learn more about these members and the current 2017 AFCPE Board of Directors, visit: http://www.afcpe.org/about/board-of-directors