There is value in an AFC – now, more than ever.  The application open March 1, 2023 and the deadline to apply for the
FINRA Foundation Military Spouse Fellowship
is April 14, 2023. Help us spread the word…NOW.
The fellowship is a unique opportunity for military spouses to earn a career-enhancing credential – the AFC® (Accredited Financial Counselor®) – while providing financial counseling and education to the military community.
Please share the messages and resources below! Help us spread the word to military service leaders, colleagues, and peers.
Help us reach military spouses in your social network!
Right click and save the images below. Share them on social media with the sample language provided, or with your own language.
Spouse Stories
Share the stories and get to know past recipients of the FINRA Foundation Military Spouse Fellowship:
After talking to an AFC® on JBSA Randolph (Joint Base San Antonio – Randolph Airforce Base), Darya Morrison realized working as a financial counselor was the job of her dreams. In 2020 she applied for the FINRA Foundation Military Spouse Fellowship and was selected as a recipient!⠀
⠀
We talked to Darya about what her life looks like now as she works to complete the program. Read more here.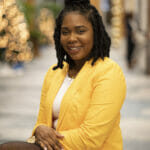 Delicia Carswell was always interested in personal finance, and even helped her friends with their finances when she was in college.⠀
Delicia used the skills and tools she gained in the Fellowship program to launch her career in personal finance. She worked for a government contract and now owns her own private practice, Elite Financial Consulting!⠀
Read more about Delicia's journey here.
Copy and paste the language below in an email and send it out to your network.
In times like these, we are reminded that now, more than ever, we need qualified, caring professionals to help families navigate financial difficulties.
The Association for Financial Counseling and Planning Education® (AFCPE®) in partnership the Financial Industry Regulatory Authority (FINRA) Investor Education Foundation will accept applications for the 2023 FINRA Foundation Military Spouse Fellowship Program beginning March 1, 2023: http://bit.ly/FINRAFoundationMSF.
The program provides up to 30 military spouses with the education necessary to earn the AFC® (Accredited Financial Counselor®) certification and enter the financial counseling career field.
Many employers – such as banks and credit unions, non-profit and government agencies, higher education and financial aid offices, military service organizations, and community housing agencies – need well trained, ethical and caring financial counselors to meet the increasing demand for financial counseling services. Military spouses help fill this need while building a rewarding career that is flexible to the demands of the military family lifestyle.
The Fellowship covers the costs associated with completing the self-study AFC certification program. Upon successful completion of the education, exam, experience, and ethics requirements, the participant will be awarded the AFC certification.
The application deadline is April 14, 2023. We encourage you to apply or help share this opportunity with others in your military spouse networks
Videos
All about the Military Spouse Fellowship Program
Never underestimate the power of video – share these on social media or pass one along to a friend. 
Past recipients of the FINRA Foundation Military Spouse Fellowship share the value of the Fellowship and the AFC®:
An opportunity to reinvent yourself.
Meaningful work where ever life takes you.
A unique combination of education and experience. 
Military Spouse Fellows share the most impactful part of the program
Jim Ketchum: The Fellowship is unique because it's a combination of education and experience.
Laura Wittig: The Fellowship is portable, meaningful, and you get to empower servicemembers.
Megan Stolle: The Fellowship gives spouses the opportunity to reinvent themselves.
Award-Winning Military Spouse Fellows share their stories
Help others build their financial confidence.
"I was working with women that were recovering from drugs and alcohol… I remember that I would help them create a budget and I was just really struck on how severe finances could impact your life… When I was younger we really didn't discuss finances in my house… so I could really relate to a lot of the women that I was assisting and that really did give me a passion for wanting to learn more."
Reignite your passion.
"I was nineteen, going to college at USD to become a pediatric anesthesiologist. It was the dream I had has since I was in third grade, and I was going to school every day and I absolutely hated everything I was doing…so at the age of nineteen, I got into helping the military with their financial futures and it was wonderful… I applied because I was already in the financial industry and I wanted to see how I could expand on that and help support family members more. "
Start a career that grows with you.
"I applied because I was interested in gaining a formal certification around financial management. It's always been a personal interest of mine and I just saw the program and looked into it and it seemed like it was set up for military spouses and some of the challenges that we face."
Adriana Lopez, Class of 2020
2021 Spouse Fellow of the Year
Danae Hoekstra, Class of 2014
2020 Spouse Fellow of the Year
Joseph Blakistone, Class of 2016
2020 Spouse Mentor of the Year

In this Facebook Live, co-hosts Rebecca and Dr. Mary Bell Carlson interview with two Military Spouse Fellows, Shay Cook of Crusaders4Change and Jen Hemphill. Shay and Jen share their experience applying for the Military Spouse Fellowship, how earning the AFC® certification impacted their careers, and answer audience questions about the program. 
For service members, a missed credit card payment might do more than just ding their credit report, it could also jeopardize a hard-fought promotion. And for their spouses, move after move might be more than just a logistical hardship, it might also be the biggest hurdle in their own career growth. The FINRA Foundation Military Spouse Fellowship Program is just one program that is aiming to address both challenges.
Thank you for your partnership and support of the FINRA Foundation Military Spouse Fellowship program and our ongoing efforts to educate and protect military families!