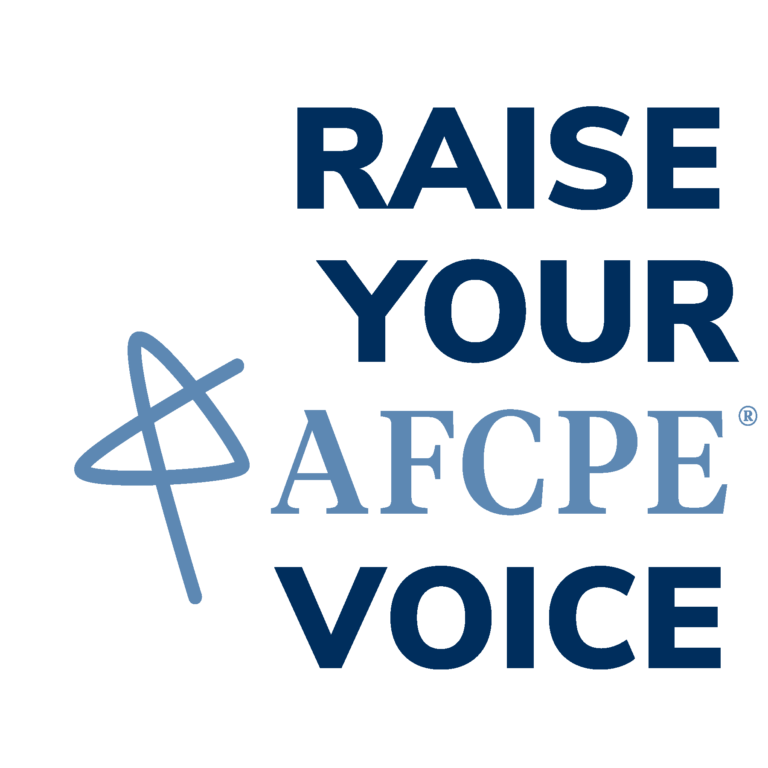 Over the last five years, AFCPE® has focused on ensuring a stable foundation for the organization, making strategic investments, and expanding partnerships to help our organization flourish and grow. We are at a point where our finances are stable, we have a healthy reserve fund, and our certification programs are growing. We are able to set our sights on ensuring long-term impact and sustainability of our organization.
These funds will be used for:
Scholarships for certification and training, students, nonprofit groups,  symposium attendance.
Research projects that build collaborations between researchers and practitioners that  impact lasting financial well-being.
Community-based initiatives that focus on solutions to promote financial security in underserved communities, using high standards of professionalism.
Thank you to the generosity and support of the individuals and organizations who have donated to the AFCPE Strategic Impact Fund. If you are interested in donating, visit: http://www.afcpe.org/support. If you are interested in legacy giving, or have questions, please contact Rebecca Wiggins, AFCPE Executive Director. 
Ashlee Abraham

Donna Atol

Sarah Bainton

Joanne Bankston, PhD

Kim Bottema

Janie Bright

Bruce Brunson

Jerry Buchko

Alan Caldwell

Lillie Cannon

Joyce Cavanagh

Nancy Chapman

Todd Christensen

Trinity Financial Coaching

Jacqueline Cooper

Megan Corbett-Hanson

Susan Cosgrove

Cynthia Crawford

Richard Crawford

Saundra Davis

Andia Dinesen

Mary Doherty

Thomas Duffany

Dorothy Durband

Wendi Faul

Mark Fiddler

Donald Fulton

Marsha Goetting

Sasha Grabenstetter

James Green

Madeleine Greene

Leslie Green-Pimentel

Kyle Grevengoed

Rachel Grimes

Charlestien Harris

Regina Harris

Joshua Harris

Jen Hemphill

Starlett Henderson

Leary Henry

Cain Hill

Diane Hupko

Alena Johnson

Jesse Ketterman

Jinhee Kim

Laurel Kubin

Lacey Langford

Ryan Law

Miriam Leiva

Brian Lomax

Meredith Lozar

William Lutz

Nashira Lynton

Lori Mann

Mike Matheny

Dora Mays

Corrinne McKenna

Patty McLean

Sean McPhilamy

Madelyn Mercado

Kate Mielitz

Barbara O'Neill

Phyllis Onstad

Sheena Parrish

Dwanala Payne

Cordi Powell

PSAV

Dominique Reese

Trina Reliford

Jennifer Richards

Patrick & Sue Rogan

Dylan Ross

Mia Russell

Bud Schneeweis

Alexander Shokrian

Michelle Starkey

Melvin Stephens

Cindy Stokes

Cheri Stueve

Jarod Taylor

Ethel Tilley

Kathy Toeneboehn

Elishia Townsend

Rebecca Travnichek

Brenda Vaughn

Sierra Walters

Rebecca Wiggins

Andi Wrenn