Thanks to the generosity of the Wells Fargo Foundation, and in partnership with Coordinated Assistance Network (CAN), AFCPE® accredited financial counselors and coaches are now offering unbiased and fully confidential virtual financial counseling and coaching sessions – free to individuals and families who are struggling with the financial implications of COVID-19.
To connect with this free program, use the link below to register.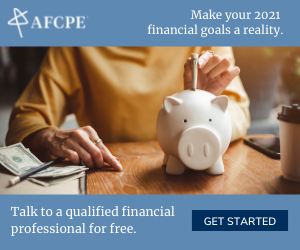 No gimmicks. No sales. Just unbiased, trustworthy
 advice from a qualified financial professional.
If you are looking for an independent counselor or coach in your area (rates vary by professional), please use the search tool below. 
Find an independent, qualified financial counselor with our professional search tool:

Find a Local AFCPE® Certified Professional​
An AFCPE Certified Professional can:
Address your immediate money challenge.
Create a plan to achieve your unique goals & dreams.
Build a sustainable foundation for long-term financial well-being.
An AFCPE certified professional is a fiduciary, which means they are committed to always doing what is best for you.  When you work with an AFCPE certified professional you receive financial education and guidance specific to your unique situation and needs. 
1st
Always look for the AFC®, FFC
®, or AFCC® mark. 
These designations give you the assurance that this professional has the education, experience, and highest ethical standards to help you through your specific financial challenges and opportunities. 
2nd
Determine where you'd like to start. 
AFCPE certified professionals are trained to provide a continuum of care – regardless of your financial history or current financial status. They can help you uncover the healthy money habits and behaviors that can lead to financial freedom. Start where you need help now:
Create an effective spending plan 
Overcome debt
Identify and modify ineffective money management behaviors
Prepare and save for retirement and other financial goals
An AFCPE certified professional will work closely to guide you  through today's challenges while helping you develop a solid financial foundation that can last a lifetime.
3rd
Find an AFCPE certified professional that fits your needs. 
Whether you are interested in face-to-face meetings, phone, or email conversations, search above for an AFCPE certified professional who can meet your needs…right where you are. 
Certification Verification
Use this directory to confirm if a professional is AFCPE certified and in good standing. You can filter by qualification and name to determine the existence of their certification. Individuals that have marked their certification as private are not displayed.