January 12, 2016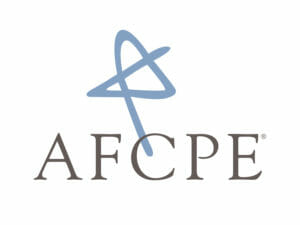 ALEXANDRIA, Va., Jan. 12, 2016 /PRNewswire/ — The NCCA accredited the Association for Financial Counseling & Education® (AFCPE®)'s AFC® certification for a five-year period, expiring December 31, 2020, during its recent meeting.
AFCPE is a non-profit professional organization dedicated to educating, training, and certification of financial counselors, coaches, educators, and other related practitioners. The organization and our nationally recognized certification programs are uniquely built upon decades of extensive field research.
Nationally recognized by the Consumer Financial Protection Bureau (CFPB) and Department of Defense, the AFC certification program provides professionals with the knowledge and skills to help consumers make more effective financial decisions. AFCPE supports professionals by providing career advancement and professional development opportunities, including exceptional financial education trainings, the Journal of Financial Counseling & Planning and our Annual Research & Training Symposium.
Today, there are more than 1400 AFC professionals in good standing worldwide, and another 2000 registered in the AFC certification program. AFC professionals work in a variety of capacities – private practice, military, government, nonprofit organizations, universities, cooperative extensions, banks and credit unions – and all are committed to helping individuals and families achieve financial well-being. The AFC certification mark communicates to consumers that our professionals have met the rigorous education, experience, and ethical requirements to hold the designation, and they are committed to ongoing professional development to ensure the highest quality of care for both the clients and consumers that they serve.
"Accreditation through NCCA enhances the value of the AFC designation to employers, colleagues and consumers. This recognition and achievement sets the certification mark apart from others in the field and emphasizes the highest standard of excellence that AFCPE has built for this field," said AFCPE Executive Director, Rebecca Wiggins. "The AFC's compliance with NCCA standards shows that the educational content and testing for the AFC is psychometrically sound and has been developed, maintained and governed by the highest standard."
AFCPE received NCCA accreditation of its AFC program by submitting an application demonstrating the program's compliance with the NCCA's Standards for the Accreditation of Certification Programs. NCCA is the accrediting body of the Institute for Credentialing Excellence (formerly the National Organization for Competency Assurance).  Since 1977, the NCCA has been accrediting certifying programs based on the highest quality standards in professional certification to ensure the programs adhere to modern standards of practice for the certification industry. To purchase a copy of the standards, please visit www.credentialingexcellence.org/ncca.
There are more than 270 NCCA-accredited programs that certify individuals in a wide range of professions and occupations including nurses, financial professionals, respiratory therapists, counselors, emergency technicians, crane operators and more. Of ICE's more than 330 organizational members, over 120 of them have accredited programs.
ICE's mission is to advance credentialing through education, standards, research, and advocacy to ensure competence across professions and occupations. NCCA was founded as a commission whose mission is to help ensure the health, welfare, and safety of the public through the accreditation of a variety of certification programs that assess professional competence. NCCA uses a peer review process to: establish accreditation standards; evaluate compliance with these standards; recognize programs that demonstrate compliance, and serve as a resource on quality certification.
ICE and NCCA are located at 2025 M Street, N.W., Suite 800, Washington, DC 20036-3309; telephone 202/367-1165; facsimile 202/367-2165; website www.credentialingexcellence.org.
Contact: Rachael DeLeon
Communications Director
703.570.6663