November 14, 2016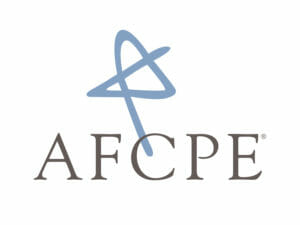 Monday, November 14, Louisville, KY – In partnership with Louisville Metro Department of Community Services and the Association for Financial Counseling & Planning Education® (AFCPE®), on Wednesday, November 16 and Thursday, November 17, 2016 more than 50 participants in the Louisville Community Financial Empowerment Certification Program and employees from Goodwill Industries of Kentucky, will have the opportunity to meet one-on-one with an Accredited Financial Counselor® (AFC®). Financial counselors will address personal financial issues, assess financial health, and begin the process of guiding clients in developing successful strategies for achieving their financial goals. Counseling is free and unbiased and focuses on the unique financial goal of each individual.
Counseling sessions will be held at the Marriott Louisville Downtown, in conjunction with the 2016 AFCPE Annual Research & Training Symposium. The 2016 AFCPE Symposium brings together more than 650 professionals from financial education, research and practice. The 3-day professional development event, November 16-18, attracts financial professionals from military, government, universities, nonprofit organizations, banks and credit unions and private practice. Leaders and innovators in the field of financial counseling and education gather to gain exposure to new research, exchange ideas and take away important implications that can be applied to their work in financial education and practice.
"AFCPE believes that all people of all income levels and backgrounds deserve access to the highest standard of financial guidance," said Rebecca Wiggins, AFCPE Executive Director. "We are committed to giving back to the local community during our annual symposium, and thrilled to partner Louisville's Department of Community Services. Our AFC® professionals will provide valuable financial education and guidance tailored to the individual's financial needs and goals."
"The Louisville Metro Department of Community Services is dedicated to improving the quality of life for all residents and reducing poverty, and we do this by collaborating with partners who share this mission," said Tina Lentz, Community Services' Executive Administrator who heads the Advocacy and Empowerment Division. "We are delighted to partner with AFCPE to bring this critical financial support to the social service providers who participate in our Community Financial Empowerment Certification program, as well as to the employees of our local Goodwill."
For the participants in the Community Financial Empowerment Certification Program, this opportunity provides value twofold. It allows them to build upon the knowledge they are learning in their training, by working with a highly skilled and qualified AFC® certified professional; but it also allows them to take a moment to focus on their financial needs. For social service providers who are continually putting the needs of others first, this event provides the chance to build financial empowerment and well-being in their lives.
About Louisville Metro Department of Community Services
Part of Louisville Metro Government, Community Services  is a leader in the financial empowerment movement which includes the creation of its own Financial Empowerment/economic Development (FEeD) Team, part of the Advocacy and Empowerment division. FEeD's programs (including the Community Financial Empowerment Certification Program, Bank On Louisville, the Financial Empowerment Services Center, the Utility Empowerment Program, Microbusiness, and financial education and case management) provide those at risk with pathways to move and stay out of poverty.  Learn more at www.louisvilleky.gov/communityservices.
About AFCPE®
The Association for Financial Counseling and Planning Education® (AFCPE®) is a non-profit, international, professional organization dedicated to ensuring the highest level of knowledge, skill, and integrity of the personal finance profession by certifying, connecting and supporting diverse and capable professionals who serve communities worldwide. We are uniquely built upon decades of extensive field research, out of which our nationally recognized certification programs were created, including the AFC® (Accredited Financial Counselor) and FFC (Financial Fitness Coach). AFCPE's certification marks represent the highest standards of excellence in the field of financial counseling, coaching, and education. Our programs provide professionals with the knowledge and skills to help individuals and families from all walks of life make more effective financial decisions.
###
Contacts:  
Debbie Belt, Public Information Specialist
Louisville Metro Government Department of Community Services
(502) 574-6587 | debbie.belt@louisvilleky.gov
Rachael DeLeon, Communications Director, AFCPE®
Phone: 614.746.0300 | rdeleon@afcpe.org