Taking More Time
In the advisor-client relationship student loans are taking up more and more time and due to the inherent complexities are creating some anxiety and confusion for all involved. Understanding the nuances of the federal student loan system and its loan repayment options are essential for all advisors, who serve clients that may struggle with understanding all the options. Advisors who understand the nuances of federal student loans have a good opportunity to not only impact their clients' lives for the better, but at the same time grow their business by helping guide that component of clients' finances. 
Recognize Various Loan Types 
Federal loans make up about 92% of all student loan debt, while private loans account for the remaining 8%. Federal loans are issued by the federal government and regulated by federal law setting interest, loan type, repayment plans and benefits. Information on an individual's federal loans can be found at (NSLDS). On the other hand, private loans are issued by banks and other lending institutions. These financial institutions set interest, terms, and benefits. Information about these loans can be found annualcreditreport.com.
Loan Types are broken down into four different categories: Direct, FFEL, Graduate/Parent Plus, and Perkins loans. Depending on when your client went to college, you may see one or all these loan types. This can contribute to the confusion, since to maximize benefits, additional steps may need to be taken first. A good place to start your review is The Department of Education.
LoanBuddy Tip: Perkins loans are managed through the educational institution your client attended and are often overlooked because institution outsource the repayment of Perkins Plans. 
Get Clients into the Right Repayment Plan
Getting into the right repayment plan is generally where the confusion begins. To begin, there are two categories for repayment plan options: Debt/Balance Driven plans, and Income Driven plans. Within those two options are several different repayment plans. 
If you think these options are overwhelming, you are not alone. However, LoanBuddy can help you and your clients clearly see the impact. Loan Buddy automatically takes client data from NSLDS.gov and uses that data to create a student loan profile specific to that client. No more using estimates–the client profile details actual student loan debt, available repayment plans and forgiveness options, in a format that is easy to understand. 
These include, Income-Driven Repayment Plans like Pay As You Earn and Revised Pay As You Earn (REPAYE) as well as Public Service Loan Forgiveness (PSLF). Enrollment in these plans will reduce monthly payments and decrease the length of the loans significantly for a majority of Americans. These federal programs give options unlike any other form of debt and are beneficial for members of the military, first responders, public education employees and nonprofit organizations. These simple LoanBuddy graphs and reports allow advisors to track and guide client progress through the lifecycle of their loans with effective technology.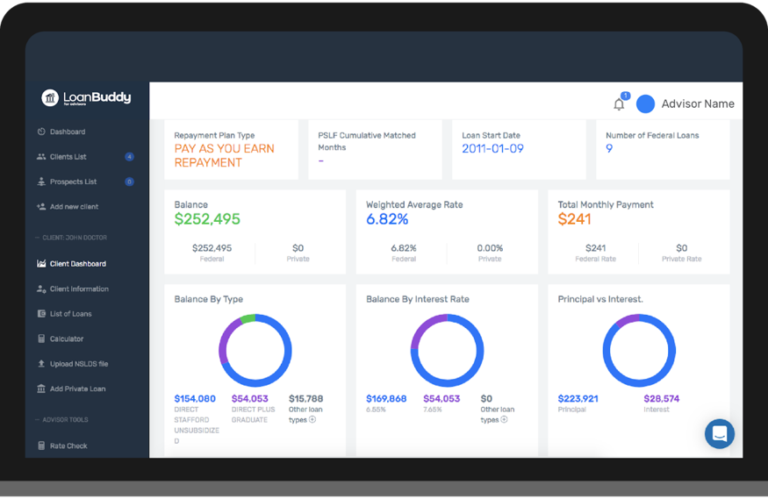 LoanBuddy Tip: Clients can change plans as often as they want; however, accrued interest will be capitalized into the new repayment plan.
Leverage Client-specific Opportunities
Part of the work of being a financial counselor means you need to know your client's goals and objectives relating to building wealth in all its forms, but you also need to be able to identify opportunities they can leverage to achieve those objectives. When it comes to loans, there are three opportunities that are a must know: Refinancing, Consolidation, and Public Service Loan Forgiveness!
Public Service Loan Forgiveness (PSLF) has stirred the conversation about student loan debt, and impact on individuals, our economy, and our nation. However, more than that, it turns out the process itself has led to 93% of applicants being denied for loan forgiveness under this federal program. Over 50% were denied for not completing forms accurately, another 25% not making the correct payment or being in the correct plan, and the rest was a combination of these things. LoanBuddy takes the worry out of that. PSLF Forms are auto populated, submitted, and remainder are sent.
There are two major reasons to use loan consolidation. The first reason is to convert FFEL & Perkins into the Direct Loan program in order to be eligible for PSLF. Secondly, depending on current interest rates, a client could leave the federal loan system, and select a private loan, at a lower rate. Although clients may save money, it is important to consider that they cannot reverse the consolidation, and they will not be eligible for any federal programs.
To help you and your clients evaluate that decision, Loan Buddy provides you access to Credible, via your advisor dashboard. With a few easy steps you can use this tool to help you identify potential offers and options to service your clients. If this sounds like useful technology to you, take the next step.
Next Steps: 
Learn more about LoanBuddy software and education courses.
AFCPE Members have access to a discount for LoanBuddy. Visit your AFCPE Member Dashboard for details or learn more about AFCPE Membership at www.afcpe.org/membership.

Guest Contributor: Loan Buddy: Loan Expertise—at your Fingertips!