Written By: Heidi Fierek, AFC®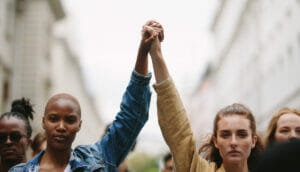 I am not going to get it right all of the time or possibly even at all. As an AFC®, I am trying to understand my role in recognizing diversity in my work .
I work for a county agency that provides free financial counseling to our residents. It is my dream job to provide financial counseling to anyone that needs or welcomes it. I often wonder though, "am I the right person to provide financial counseling to racial minorities?" Colleagues tell me that people of color (POC) feel more comfortable working with those who look like them. As I write this, Derek Chauvin is on trial for the murder of George Floyd  just miles from my home. I question if I even have a role when it comes to addressing Diversity, Equity, and Inclusion (DEI) in financial literacy as a white woman.
"How do I serve POC given everything that is going on in the world?"
I use my AFC® training to work with people in poverty, the majority of whom are women and POC. My intake form includes questions like "Do you have enough money for your basic needs like shelter, food, and utilities?" I often send my clients home with a bag of food provided by one of our local food shelves. People find their way to me when they are facing a financial emergency, garnishment, or utility shut-off notice. There is no shame in the game of how money affects lives in my world, but this world is changing. There is a messiness of being white and providing financial education to racial minorities. This messiness, in addition to all of the different voices I am hearing, makes me question my role as a financial educator.
Words Mean Different Things to Different People
I struggle in finding the words to connect with my clients in a meaningful way without causing any more pain. A colleague told me not to use the word "hope" when working with POC. Didn't Barack Obama use "hope" as a method to become president of the United States? One person says it's okay for me to be an ally to the Black Lives Matter movement while another tells me that I can't be an ally because my people [white people] are creating the problems. 
I don't like the idea that everyone can't use a word like "hope".  However, I must learn to navigate this new knowledge and the  power around words. I acknowledge that words mean different things to different people. When I start working with new clients, I ask them to tell me if I am providing information they already know, if they want more information, or if my words are triggering. When someone comes to me with a financial issue, it is my duty to partner with them to create a plan to overcome the challenge. I understand my words might be different, but we are working on a common goal. 
Guiding POC from Surviving to Thriving
My AFC training has taught me things I didn't learn in school. I have learned about how equity affects people of color. Redlining, credit discrimination, and other barriers are deeply rooted in our government. These practices make it difficult for POC to receive assistance. I work for the government, yet I ask my clients to place their trust in me to provide the correct information. The CFPB taught me that how far down the road of life a person can see is an indicator of where they are with their financial well-being. I know it is my job to help expand a client's vision regarding their transition from surviving to thriving, but is it my place in today's world?
I will let my clients decide if it is my place. If they keep coming back it is a good indicator that although I might not be the best person, I am here willing to do the work with them.