Blog
"Your hobby costs how much?"  This is a question I have received many times through my life. It's true, to some, my hobby seems expensive, maybe even exorbitant. But the truth is, the value of a hobby is more than meets the eye.
I am a proud horse owner, and many consider my horses to be my hobby. To me kayaking, fishing, camping, volleyball, and writing music are my hobbies. My horses are simply family. For that reason, I tend to look at their expenses a little differently. However, regardless of how I view these expenditures, the reality is that they, along with other hobbies, cost money.
So, how much should I spend on hobbies? What is appropriate?
My answer: If you can pay your monthly expenses and save for retirement, I do not believe there should be a limit. Now let me tell you why.
You only experience life once, and if you wait too long to do anything, you may miss out altogether.
Now there is a caveat to this statement. The sooner you sacrifice, the quicker you can establish proper savings and start living a life full of the hobbies that will enhance your life. Helping our clients get a handle on their financial situations is one of our primary goals as financial counselors. I want to teach my clients how to utilize their money in the most efficient way to have a fulfilling, less stressful life. I have clients from each end of the spectrum, and both come into my office stressed. Some clients are stressed because they are scared to spend money while other clients are stressed because they have not saved a dime. It is our job as counselors to help our clients find a balance.
Hobbies provide incredible benefits to your quality of life.


After we get our clients on an appropriate savings plan, we can then begin to discuss the expense of hobbies. Hobbies are more than just simply finding enjoyment in life. Hobbies can increase your income, enhance your mental and physical well-being leading to lower health costs and have a positive influence on other people's lives, and lower your monthly expenses in other parts of your budget.
Increasing your income:
When you are passionate about something, you tend to become good at it. I gave horseback riding lessons for years to help fund my love of horses.  There are many people who are passionate about taking pictures and find they can consistently make money as a photographer. Farmers markets are full of gardeners and crafters who have products to sell.
Enhancing your happiness and the happiness of others:
A good friend of mine started fishing every day and naturally became excellent at it. Instead of hoarding his vast knowledge on the subject, he helps friends and children become enthusiastic about fishing. I have personally seen fathers connect better with their children because of the guidance he has given them. Being able to contribute to the happiness and bonding of a family through is the love of a hobby is priceless.
Lowering Other Expenses:
Hobbies can help lower or substitute for other items in your budget. Each fall I drastically see my food bill drop when I can eat the produce from my garden. I do not have a need for a gym membership because my horses require so much physical activity. I have friends who love to sew and do not need to buy as many clothes for their children.
Being able to afford your hobbies may mean you make some sacrifices – you might chose to give up cable, eat at home more, quit smoking or drinking alcohol, buy a used car with a lower monthly payment or no payment, or give up something else in your spreadsheet.  When making your decision about where your money goes ask yourself, "How much value does this add to my life?"
As counselors, we like to see the concrete numbers when making a budget. We like to be able to measure the value. However, we need to look at factors beyond the spreadsheet to create the perfect financial plan for our clients.
Guest Contributor: April Meza, AFC®
August 3, 2015 at 11:57 am, by admin | No Comments | Category budget, financial education, General
Marissa Cruz wrote an important article, entitled, "Why Service Members Should Receive Financial Literacy Training." The article caught our attention for its urgent message and strong focus on the financial issues facing our country's servicemembers and veterans. Cruz raises very valid points around the importance of providing financial literacy training to all service members, as well as increasing the strength and frequency of financial education. These statements are undeniable.
However, in the article Cruz also states "currently the military provides only general financial advice, out of concern that unscrupulous financial advisors would steer young, inexperienced service members into inappropriate investments." The reality is that there are many incredible professionals, tools and resources available to our service members. The challenge is making the connections in a way that leads to positive and lasting financial behavior change, as well as effectively measuring success. While research shows financial literacy "doesn't work", we see the opposite and attribute that to highly skilled professionals who honor a fiduciary responsibility to the service members.
AFCPE® (Association for Financial Counseling and Planning Education®) exists to support the career development and education of our financial professionals. Together, our shared mission is to improve the economic well-being of individuals and families worldwide, including our veterans, service members, and military families.
Creating the Continuum of Care
With over 30 years of experience as the standard bearer for financial counseling and education, we know that financial capability is created through a complete continuum of care, where financial literacy is the foundational component. In order for lasting behavior changes to occur, individuals must have access to education, resources, and interactive tools that they can implement in their daily lives. But, they also need professional guidance that goes beyond a prescriptive, packaged approach to address each unique financial situation, need and goal.
The good news is that many of these tools and resources exist. Our professionals are working in the trenches, to connect consumers with these valuable resources and offer unbiased, comprehensive financial guidance.
AFCPE's Accredited Financial Counselor (AFC®), represents the highest standard of excellence in the field of financial counseling and education. There are currently more than 500 AFC Professionals who are working as financial counselors and educators on installations across the world. These certified professionals are qualified to help clients through a variety of complex issues, such as credit and debt issues, bankruptcy, and foreclosure, saving and create meaningful solutions to reach the client's financial goals.
Their expertise goes well beyond general financial advice; they have the comprehensive knowledge and experience to meet a client where ever they are in their financial life and guide them to create successful strategies to achieve their unique and individual goals.
Resources Are Available Now
We are proud to work with organizations like FINRA Foundation, Department of Defense and Consumer Financial Protection Bureau (CFPB) who are conducting critical research and bridging access gaps to actively make resources and guidance more readily available to our troops.
There are several initiatives we would like to highlight that provide access to free, trusted and unbiased financial resources and professional guidance for our service members and veterans:
CFPB Financial Coaching Project: As part of the CFPB Financial Coaching initiative, all financial coaches are required to obtain the AFC® certification and financial coaching training through Sage Financial Solutions. CFPB Financial Coaches will provide one-on-one financial coaching services to Veterans and the economically vulnerable to help them take control of their finances proactively, and empower them to make better informed financial decisions. Access to an AFC CFPB Financial Coach is available at 60 locations nationwide.
Military Spouse Fellowship Program
Since its inception in 2006, the FINRA Foundation Military Spouse Fellowship program has awarded more than 1,300 fellowships to military spouses across the United States and the world. The fellowship provides a covers the costs associated with completing the AFC® training and testing and is designed to meet the unique needs of military spouses. Through this partnership, military spouses have developed rewarding careers while helping military families build brighter futures. Fellows offer services at the installation's family support centers, local banks and credit unions, or nonprofit or credit counseling agencies.
Veterans Financial Coalition
AFCPE joined with Visa Inc.'s Practical Money Skills, Consumer Action, the Consumer Federation of America and Military Saves to form the Veterans Financial Coalition. The coalition is dedicated to serving the financial education and consumer protection needs of veterans and will offer free resources to aid the transition from the military into civilian life.
BBB MobileMi$$ion App
AFCPE® is proud to partner with the Better Business' Bureau Institute, Moneythink, IDEO.org and CauseLabs to launch a financial capability tool designed specifically for transitioning servicemembers, veterans and their families to help them navigate their finances during the transition from active duty to civilian life.
The program helps Veterans meet their financial goals – from saving to paying down debt, improving your credit, being prepared for emergencies, planning for the future, and accessing government benefits. All mentors provided through the app are trained military spouses actively earning an AFC® certification. They understand the unique situations of our Veterans because they have lived it.
If you are a Veteran who has transitioned in the last 5 years or are a service member planning to transition in the next year, click here to learn more and to download the app.
Rebecca Wiggins is the Executive Director of AFCPE and holds a Masters of Family Financial Planning from Kansas State University. Search for an AFCPE Certified Professional in your area by using the association's search tool.
Association for Financial Counseling and Planning Education® (AFCPE®) is a non-profit organization dedicated to educating, training and certifying financial counselors and educators. AFCPE offers rigorous certification programs in financial counseling and coaching including the AFC® (Accredited Financial Counselor) certification, nationally recognized by the CFPB and Department of Defense. Our programs provide professionals with the knowledge and skills to help individuals and families from all walks of life make more effective financial decisions.
July 30, 2015 at 9:54 am, by admin | 1 Comment | Category financial education, General, military
For Gabriella Barthlow, 2015 is a year of firsts. Although she has worked as an AFC® professional for more than 7 years, this year she started a new role as a Financial Coach for the CFPB Financial Coaching project, became a member of AFCPE® and is planning her first trip to the 2015 AFCPE Symposium. Read on to learn more about your fellow AFCPE member and the work she is doing in our field.
Tell me a little about yourself and how you got started in the world of personal finance?
I fell into the field of financial literacy while teaching a local workshop on employment. The daughter of a woman who owned a credit education company sat in on one of my courses and convinced me that I would do well in the world of finance and credit education. Through this education company, I spent six years working with employees of the United Auto Workers (UAW). During that time, I conducted classes on topics ranging from mortgage readiness to investment financing to credit reports to managing your money effectively. When Chrysler was bought out by Daimler, the funding for my role was eliminated, so I went on to start my own financial/credit education business: Alpha Advisory Group.
What motivated you to apply for the CFPB Financial Coach position?
Even though I have my company, the economy can be tough for a small business.  I enjoy working with companies that align with my belief system – organizations that focus on educating consumers and providing them with the needed tools and resources to become financially independent.
When I learned of the CFPB position from AFCPE, I felt like I died and went to heaven. The job description was my entire 17-year career, and my family comes from a military background. I grew up a Navy Brat. My Dad served 20 active duty years in the Navy, my ex-husband was in the Air Force, my oldest brother served in Vietnam and my nephew just served 11 years in the Marines. All 5 of my uncles served in the Korean War. My grandmother housed the service men through World War II and the Korean wars. With such a rich military history, it felt like such an honor to be able to work for and serve Veterans. I knew I was perfect for this position.
What do you enjoy most about your work with Veterans and their families?
I love working with Veterans and their families because I understand their challenges. This work provides me with an opportunity to give back to them for their service to our country, offering them the best coaching and education that can be provided.
If you could share one new technique or insight you have learned from your Financial Coach training what would it be?
My top piece of advice, while simple, is so important. Remember to "just be." When you are listening to your clients, be in a space of love, kindness, empathy, and understanding.
This is your first year as an AFCPE member – what attracted you to join?
I've been an AFC professional for more than seven years, and during that time AFCPE has given me so much support, courage and patience as I have developed my professional reputation and honed my skills. I am currently employed through the CFPB's financial coaching project, a connection I made through my involvement with AFCPE. AFCPE membership is a great addition to my career – and I love the CEU opportunities it provides!
Rumor has it that you are joining us for the AFCPE Symposium this year! What are you looking forward to most at this year's Symposium?
I just booked my hotel and paid for my flight! I am looking forward to the networking, the education, and the feeling a part of something bigger than myself. Since 2003, I felt lonely in the world of Finance and Credit Education, and now I have the opportunity to meet my "family" – the peers and colleagues who have supported me from afar!
And lastly, what is your favorite personal finance advice?
Your financial issues do not define who you are as a person. Often circumstances come into our lives that are beyond our control. Temporary financial setbacks do not make you a bad person. It's important to look up, get up and keep it moving! There is nothing that cannot be healed in your financial life with time and money.
AFCPE Members can connect with Gabriella, and find other professional members living in their area, by using the Find A Member search located in the MyAFCPE Membership Dashboard.
July 29, 2015 at 8:09 am, by admin | 1 Comment | Category financial education, General, Symposium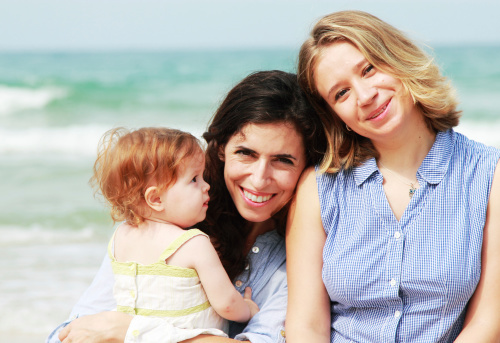 It's been nearly two years since the U.S. Department of the Treasury and the Internal Revenue Service (IRS) ruled that same-sex couples legally married in states that recognize their marriages, should be treated as married for federal tax purposes. Subsequently, the ruling applies regardless of whether the couple lives in a state that recognizes same-sex marriage or a state that does not.
While the ruling was a positive move toward tax equality for all married couples, regardless of sexual orientation, until all states recognize same-sex marriage, same-sex couples need to be aware of the gaps and complexities that still exist in our tax and benefits code. Below are five potential tax issues you may experience as a same-sex married couple. Read more at mint.com…
Rebecca Wiggins is the Executive Director of AFCPE and holds a Masters of Family Financial Planning from Kansas State University. Search for an AFCPE Certified Professional in your area by using the association's search tool.
July 13, 2015 at 2:20 pm, by admin | No Comments | Category financial education, General
Recently in a personal finance class, some of the students asked me how much they should be spending in the different budget categories, such as housing, groceries, and so on. I've always seen these categories as somewhat flexible, with the amount you spend on one thing versus another being entirely personal and dependent on your priorities, income, family make-up and so on. However, in the second session of the class the question came up again, and I realized that I needed to address it more specifically.
So I went to find some information and came up with two very interesting articles on how much we should spend, and how much we do spend in the United States, across various budget categories. Here are the results of those two articles.
Budget 1
In his column called "The New Frugal You," Gary Foreman suggests the following breakdown for expenses [[1]]. He gives percentage amounts based on after-tax income and then converts the percentages into dollars, for the example of someone earning $25,800 per year after tax.
Foreman does not specify what is included in each category (for example, is car insurance included in "auto" or "insurance"?), beyond mentioning that utilities are included in housing.
Budget 2
The next study was compiled by Trent Hamm [[2]] and relays a 2009 chart from VisualEconomics.com.   There is more recent data available, but none of them is presented quite this beautifully.
Based on Department of Labor data, the chart shows "U.S. Consumer Unit Expenditures" in dollars and in percentages. The average "U.S. consumer unit" turns out to be a household of 2.5 people with an average age of 48.8. The "unit" includes 1.3 earners, earning a total of $63,091 before taxes, with average annual expenditures of $49,638.
The graphic is beautiful, but a little hard to see so here is the breakdown in a table.
In this survey, the Bureau of Labor Statistics (BLS) records the full cost of each purchase made during the record-keeping period, even if full payment was not made at the date of purchase [[3]]. "Cash contributions" refers to money given to people or organizations outside the household, including donations, child support and alimony, and care of students away from home.
Insights into Spending & Saving
Clearly Foreman's categories shown in Budget 1 (or any definition of how much we "should" spend) are only a rough guideline. Especially in the savings category, I would allocate much more than the 5% that he suggests. In addition to retirement savings, younger people will need to be setting aside money for a possible house or car purchase in the future. Older people will need savings for maintenance of the house they have acquired. There are also savings for special events such as travel or weddings, or college savings for the youngsters. It is notable that Foreman allocated more to entertainment than to savings!
However, our actual savings are even lower. In the BLS data, savings are only referenced as "pensions, social security", at a relatively high 10.1%. But since 7.5% or more of that would be for Social Security, that only leaves approximately 2.6% going into pensions and personal savings.
In the major categories – housing, food, and transportation – the percentages are roughly similar for the suggested and actual budgets. Foreman suggests 32% for housing, and 15% each for food and transportation. Actual average spending is 34% for housing, 12.4% for food, and 17.6% for transportation.
I agree with Foreman that a spending plan – any spending plan – is always a good idea. It allows us to see realistically how far our finances can go, to set goals, and then to keep track of whether we are on target. There is no better way to avoid debt or to create a joint plan for couples that will get both partners pulling in the same direction.
In my class, the people who wanted these numbers were all new to tracking their finances, and all felt better with some kind of guidance to help them get started. What I have found is that people are often uncomfortable with things that are loosely defined, such as forward-looking projections or, in this case, unspecified categories. In this case, providing the numbers as a place-holder to get the discussion started was helpful. Once they had that, they could get unstuck, and move on to the discussion of what each number should be for their personal situation.
[1] Gary Foreman, "A Generic Budget: Guidelines for Spending Categories", http://www.creditcards.com/credit-card-news/gary-foreman-guidelines-budget-spending-categories-generic-plan-1580.php , 6 September 2012.
[2] Trent Hamm, "How the Average American Family Spends Their Income – and How to Trim It", http://www.thesimpledollar.com/how-the-average-american-family-spends-their-income-and-how-to-trim-it/, 27 August 2014.
[3] "Consumer Expenditure Survey, Glossary", U.S. Bureau of Labor Statistics, http://www.bls.gov/cex/csxgloss.htm, referenced June 2015.
What have you found to be helpful when supporting students or clients in creating their first budget? 
If you are starting to create your own budget, what would help you get started?
Guest Contributor: Linda Matthew, MoneyMindful Personal Finance Coaching, www.moneymindful.org
July 8, 2015 at 8:16 am, by admin | No Comments | Category budget, financial education, General